RA Mueller Appointed Factory Authorized Service Center for Chemineer® Mixers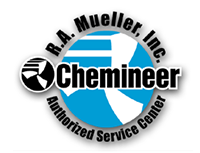 Chemineer, Inc. has appointed RA Mueller as the Factory Authorized Service Center for its turbine agitators and mixers in Indiana, southern Ohio, Kentucky and West Virginia. The Chemineer products included are the:
HT turbine agitators in case sizes 1 through 10
GT turbine agitators
DT top entering mixers
XP portable mixers
Chemineer has long been recognized for its mixing technology and the quality of the products it designs and manufactures. RA Mueller is one of the largest regional process equipment distributors in the United States. It has a proven track record of leadership with over 50 years of providing its customers with premier brands of fluid handling products coupled with superior service, maintenance and repair capabilities. The combination of Chemineer and RA Mueller ensures efficient operational performance, less downtime and an overall low total cost of ownership for all of your agitation and mixing applications.
What Can You Expect from RA Mueller?
Pick-up and delivery service to make the repair process simple and easy for you
Factory trained technicians that know how to make repairs correctly … the first time
All repairs made according to Chemineer factory procedures using genuine Chemineer replacement parts to optimize the value of the investment you made in your Chemineer mixer
Extensive in-house inventory of common replacement parts to reduce downtime
Thorough cleaning and degreasing of each unit
Careful inspection of each mixer part to identify all potential problems
Failure analysis to reduce repetitive problems
Preparation of a detailed repair scope with digital photos to reassure you that all repairs were not only necessary but completed with a high level of quality
Pressure testing of all mechanical seal cartridges to verify performance
Repainting of all units to like-new condition
Packaging that clearly identifies and protects your Chemineer mixer for safe delivery
Exchange and upgrade programs to ensure that you have the proper Chemineer mixer to meet your application requirements
Preventative maintenance programs for longer mean-time between repairs
Repair Warranty
As a factory authorized service center, RA Mueller's goal is to repair or remanufacture all turbine agitators and mixers to Chemineer's high level of new equipment standards. Each unit that is repaired by RA Mueller includes a new equipment one-year warranty from defects in materials and workmanship.
Service Attitude
RA Mueller recognizes that repair needs do not always occur during normal business hours. That is why Mueller is there to provide the service you need, when you need it … 24 hours a day. In addition, RA Mueller offers exchange programs for Chemineer agitators and mixers that can minimize downtime. It's all part of Mueller's overall attitude toward service that can save you both time and money.
Focus on Quality
Quality always makes a difference and Chemineer mixer repair is no exception. RA Mueller will take your well-used agitators and mixers and refurbish them to like-new condition as shown in the following photographs. You will be more than satisfied with the quality of Mueller's work and the attention to detail.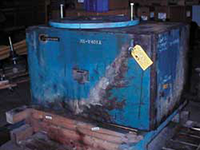 Before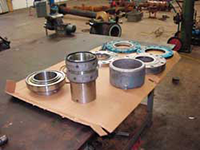 Before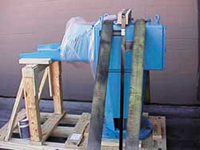 After
After
Service Center Facilities
RA Mueller's Factory Authorized Service Centers for Chemineer Products are located at:
11270 Cornell Park Drive
Cincinnati, Ohio 45242
Phone: 513-247-5307
800-793-7867, ext. 5307
Fax: 513-247-5330
Martin Industrial Park
Route 5, Box 950
Parkersburg, West Virginia 26101
Phone: 304-489-3902
877-793-7867
Fax: 304-489-3905
5060 W. 79th St.
Indianpolis, IN 46268
Phone: 317-875-7864
866-793-7967
Fax: 317-875-6642