What's New?
DXP/RA Mueller Expands Its Oil & Gas Division
DXP / RA Mueller is pleased to announce we have expanded our investment in the oil and gas market. We are pleased to be able to service the Utica and Marcellus shale areas of Ohio, Pennsylvania and West Virginia. We are going into this growth market with three salesmen located in Columbus, Marietta and Massillon, Ohio. In addition we have increased the service and technical support personnel in our Marietta, Ohio repair facility. Some of the products we are taking to this market are the DXP HP Plus pump, PumpSmart controllers.
Ebara Pumps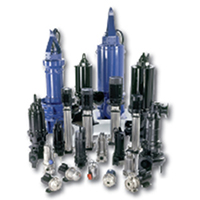 DXP / RA Mueller is pleased to announce that we have added the Ebara line of submersible and self priming pumps to our line card. Ebara has been manufacturing pumps for over 100 years. With horsepower ranges up to 400 HP and capacities to 35,000 GPM, Ebara's cast iron submersible pumps meet a wide range of industrial, municipal, flood control, and residential water and wastewater applications. The cast iron line of pumps includes submersible sewage, submersible sump, semi-vortex, vortex, grinder, non-clog, dry pit and self priming models.
Moyno 2000 Series Close Coupled Pump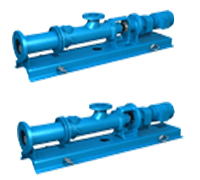 The new Moyno® 2000 Model WA and WB Pumps provide unmatched performance in a compact, close-coupled configuration. Moyno 2000 WA and WB close-coupled pumps are specifically designed for lower pressure, lower flow applications that do not require the full features and benefits of the Moyno 2000 G1 pump. The Moyno 2000 WA and WB models are ideal for industrial applications that require the transfer of highly viscous fluids and solids where a close coupled configuration is preferred, but the robustness of a gear joint is desired. The WA series pump features bearings that are integral to the adapter housing. The WB series pump features a traditional close coupled design where the bearing loads are supported by the motor or gearbox.
Pulsafeeder Acquires Periflo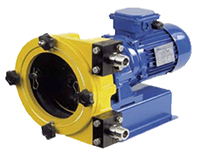 Pulsafeeder announces the acquisition of PeriFlo, a leading provider of peristaltic pumps for the industrial and municipal water and wastewater markets. An innovative manufacturer, PeriFlo offers a complete family of peristaltic hose pumps for a wide variety of applications. PeriFlo's pump designs have been widely accepted by both the international community and the U.S. market since their introduction into those markets in the mid-1990s.
Why DXP's purchase of RA Mueller, Inc. makes us a SmartSource for you!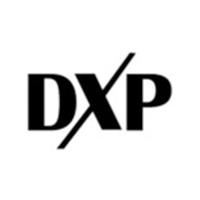 Founded as Southern Engine and Pump Company in 1908, DXP was re-chartered in 1979 as Sepco Industries and renamed DXP Enterprises, Inc. in 1996. Over the years, we have strengthened our ability to support our customers by acquiring a diverse group of companies with a powerful corporate focus on product expertise, technical services and MROP supply chain management.
Today, DXP is a publicly traded professional distribution management company that provides products and services to a variety of industries through its Innovative Pumping Solutions (IPS), Supply Chain Services and MROP Products and Services.
RA Mueller Appointed Factory Authorized Service Center for Chemineer® Mixers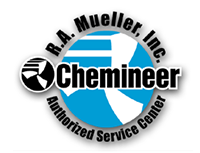 Chemineer, Inc. has appointed RA Mueller as the Factory Authorized Service Center for its turbine agitators and mixers in Indiana, southern Ohio, Kentucky and West Virginia. The Chemineer products included are the:
HT turbine agitators in case sizes 1 through 10
GT turbine agitators
DT top entering mixers
XP portable mixers
Chemineer has long been recognized for its mixing technology and the quality of the products it designs and manufactures. RA Mueller is one of the largest regional process equipment distributors in the United States. It has a proven track record of leadership with over 50 years of providing its customers with premier brands of fluid handling products coupled with superior service, maintenance and repair capabilities. The combination of Chemineer and RA Mueller ensures efficient operational performance, less downtime and an overall low total cost of ownership for all of your agitation and mixing applications.
RA Mueller Appointed Distributor for Emotron Motor Load Monitors and Soft Starters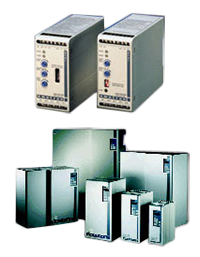 Emotron USA of Toledo, Ohio announces the appointment of RA Mueller Inc. as distributor for its line of motor load monitors and soft starters. The Emotron line is known for its simplicity and ease of set up, along with reliability. Jim Hook, Vice President of Marketing and Sales, stated "with our product line of seal-less and sealed pumps, it only makes sense to offer our customers the option of an excellent electronic package for protecting their pump investment from run dry or dead head conditions. " Also, Emotron offers dry run protection solutions for submersible pumps that replace floats and level detectors. Included in the Emotron product line handled by RA Mueller Inc. is a line of soft starters. The soft starters are used to protect mag-drive equipment from operating at excessive torque loads that may result in magnet decoupling and magnet damage. Please see the Emotron site at www.emotron.com for additional information.
RA Mueller Selected as Distributor for John Crane in Indiana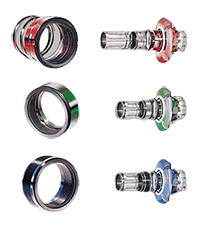 John Crane of Morton Grove, Illinois announces the appointment of RA Mueller Inc. as its distributor for Indiana. John Crane is the world's largest manufacturer of mechanical seals and related equipment. Brand names include John Crane, Sealol, Safematic, and Flexibox. Ralph Towle, regional manager for John Crane, commented "RA Mueller Inc. is focused on rotating equipment, and they have done an excellent job for us in Ohio, Kentucky, and West Virginia. John Crane is very pleased to extend our channel partnership with RA Mueller Inc. to Indiana. RA Mueller Inc. will offer coverage for John Crane within the entire state of Indiana except for the counties associated with the Evansville, and Chicago markets."
New Chemineer® DT Top-Entering Mixers and Chemineer XPress™ Portable Mixers Now Available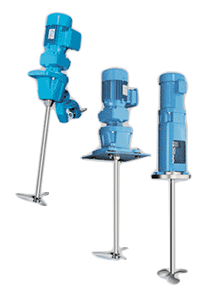 In efforts to provide its customers with total support for their mixing needs, RA Mueller is now offering two new lines of Chemineer® mixers. Incorporating 50-plus years of mixer technology experience in a top-quality, high-performance package, Chemineer, Inc. recently introduced its new DT top-entering mixers and the XPress™ line of portable mixers.
The new Chemineer DT top-entering mixers offer modular designs, a variety of shaft lengths and diameters, power ratings up to 5 hp, a wide range of impeller selections and an optional right-angle drive, to ensure that each DT is easily modifiable to meet customers' application specifications.
Chemineer XPress portable mixers offer direct or gear-reduced drives, C-clamp or cup-plate mounting options and power ratings from ¼ to 2 hp. To guarantee customer satisfaction, a 30-day "No risk trial" and a "Trade-in/Trade-up" program accompanies each XPress portable mixer.
Both the DT and XPress lines of mixers are fitted with industry standard, off-the-shelf, NEMA motors and gearmotors and are supplied in standard configurations that enable Chemineer to guarantee 48-hour delivery on all shipments.
RA Mueller Appointed Authorized Distributor for Eco, Eastern and Isochem Products in Indiana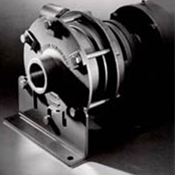 Jerry Connolly, national sales manager for Pulsafeeder unit of IDEX, located in Rochester, N.Y. announces the appointment of RA Mueller Inc. as the authorized distributor for Eco, Eastern and Isochem products for the Indiana territory. Eco, Eastern, and Isochem are widely used low flow chemical transfer pumps, available in alloy construction, sealless or with mechanical seals.
Jerry indicated "RA Mueller Inc. has done an outstanding job in the Ohio, Kentucky, and West Virginia territory that they have covered for Puslafeeder distributor products since 1995." Jerry went on to say, "With a service center that just opened in Indianapolis, and three new sales engineers hired to cover the Indiana territory, RA Mueller Inc. is well positioned to serve the Indiana market for the Eco, Eastern, and Isochem products."
RA Mueller Acknowledged as Leader in Repair and Service Capabilities by Pumps & Systems Magazine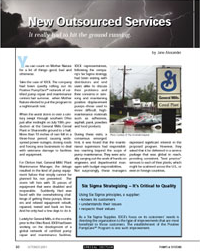 RA Mueller was recently recognized in the October 2001 edition of Pumps & Systems magazine, a national publication, for its excellence in repair service and maintenance capabilities as one of the first IDEX Positive PumpCare™ Certified Service Centers. RA Mueller went above and beyond the call of duty to bring the General Mills Cereal Plant in Sharonville, Ohio back on line, quickly and efficiently, following the sudden storms and severe flooding which swept through southern Ohio in mid-July.
Described as Ohio's "storm of the century", the mid-July storm dropped more than ten inches of rain within a three hour period and left General Mills with 35 pieces of equipment that were suddenly inoperable. The sudden downpour flooded many roads in the area of the Plant, making them virtually impassable. Despite these harrowing conditions and logistical challenges, Mueller's service and repair technicians managed to reach the General Mills site quickly and worked overtime and through the weekend to deliver, install, test and start-up the necessary replacement pumps and blowers.
This disaster and the superb performance exhibited by RA Mueller personnel demonstrated the unique value of the Positive PumpCare™ program under real-life conditions. Clinton Hart, General Mills' Plant Maintenance Manager, found that he could rely on RA Mueller and Positive PumpCare™ to provide the needed equipment quickly and successfully, bringing his plant back on line flawlessly, "no leaks and no surprises".
New Kenics® Static Mixers and Heat Exchangers Now Available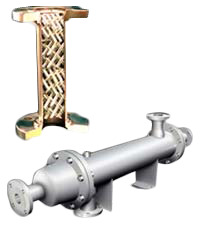 RA Mueller is now offering the latest Kenics® brand name product advancements from Chemineer, Inc. The new Kenics® KMX Static Mixer features patent pending construction that generates superior mixing per unit length for laminar flow and high/low viscosity ratio applications. In head-to-head testing with competitive models, the KMX ranked number one!
The new Kenics® KMVX Heat Exchanger from Chemineer is engineered with a patent pending design for superior efficiency and low cost in process heating/cooling applications down to 10 cps.
"Both products employ recently developed Kenics static mixing technology that delivers superior performance and customer value when compared to competitive designs," noted Jim Hook, Vice President of Marketing and Sales, RA Mueller. "It's a further indication of RA Mueller's commitment to align itself with process equipment manufacturers dedicated to the development of leading edge, customer focused product technology."
RA Mueller is Named Industrial Distributor for Liquid Controls in Indiana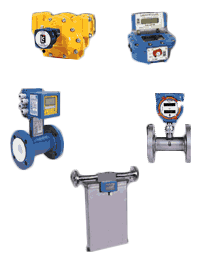 Liquid Controls, a world leader in high-quality flow meters and accessories, recently selected RA Mueller to be its authorized industrial distributor for Indiana. Liquid Controls provides products for accurate liquid measurement in both custody transfer and process control applications. It offers a complete line of industrial metering technologies, including turbine, electromagnetic, vane and positive displacement.
"Liquid Controls was recently acquired by IDEX, which gives us the opportunity to offer our Indiana customers this high quality line of industrial meters," said Jim Hook, Vice President of Marketing and Sales, RA Mueller, "It is becoming increasingly more common to see industrial pump and metering technologies integrated together. Since it is so much more efficient, over the long term, we now see meters working with VFD-equipped pumps as the primary means of flow control in the process industries, replacing the older control valve and PID loop configurations."
RA Mueller Earns Positive PumpCare™ Certified Service Center Designation from IDEX

In recognition of its excellence in repair service and maintenance capabilities, RA Mueller was designated a Positive PumpCareTM Certified Service Center by IDEX. The title denotes that RA Mueller has met a series of rigorous standards for the service and repair of Corken, Micropump, Pulsafeeder, Viking and Warren Rupp products. RA Mueller technicians have been factory trained and certified to perform a variety of tasks including pump overhauls, mechanical seal maintenance and laser alignment.
"The IDEX certification is evidence to our customers that we stand behind the products we represent," commented Jim Hook, Vice President of Marketing and Sales, RA Mueller, "They can feel confident that we have the aftermarket expertise to service their products properly while minimizing downtime and expense."
RA Mueller Chosen to Represent Chemineer in Indiana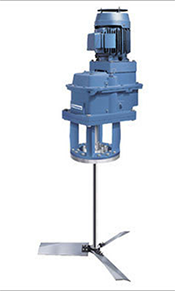 RA Mueller has expanded the industry-leading product brands it represents in Indiana. Recognized for its current performance representing Chemineer products in Ohio, Kentucky and West Virginia, the Company was recently appointed the representative of Chemineer products and services through most of Indiana. Chemineer is a leading manufacturer of turbine agitators, mixers, static mixers, high shear mixers and heat exchangers. "We are excited by the confidence Chemineer has expressed in our ability to represent its products. This appointment allows us to continue to build our customer base in Indiana," stated Jim Hook, Vice President of Marketing and Sales, RA Mueller Inc. "Chemineer, Kenics, Prochem and Greerco products provide the unparalleled performance value and rugged dependability that our customers are seeking for their rotating, static and high shear mixing applications, as well as their heat exchanger applications."
Comprehensive sales and service support in Indiana is available from four experienced outside sales engineers and three highly-trained inside representatives assigned to handle Chemineer equipment and replacement parts.
RA Mueller-Sponsored Racecar Finishes 6th in Kentucky 150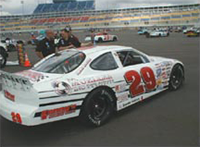 Union, Kentucky native, Darrell Lanigan guided the number 29 Ford Taurus, sponsored by RA Mueller and General Electric, to a sixth place finish in the Kentucky 150 on Saturday May, 12th. Part of the ARCA Remax Series, the 100-lap event was held at the Kentucky Speedway, a 1.5-mile tri-oval in Ft. Mitchell, Kentucky. The RA Mueller-G.E. Taurus started from the seventh position and swapped places among the top five most of the day before crossing the finish line sixth at the checkered flag.
Jim Hook, Vice President of Marketing and Sales, RA Mueller, commented on his company's sponsorship of the car by stating, "We were pleased to have been involved with G.E., ARCA, Darrell and the whole race team. We hope that our sponsorship has successfully associated the high-quality products and services that RA Mueller offers with the high-quality of performance demonstrated by Darrell Lanigan in the 29 Ford Taurus."
New Account Manager to Serve Parts of Ohio, Kentucky and West Virginia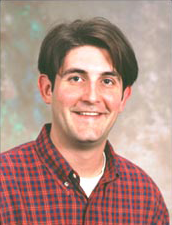 RA Mueller is pleased to announce that Ken O'Roark has been appointed account manager for southern West Virginia, eastern Kentucky and southeastern Ohio. Ken, a chemical engineering graduate from the University of Kentucky, comes to RA Mueller with over seven years of plant and process engineering experience, most recently with Union Carbide.
According to Jim Hook, Vice President of Marketing and Sales, RA Mueller, "Ken has a wealth of practical experience and the in-depth knowledge required to give our customers the high level of service they've come to expect from RA Mueller."
To discuss your process equipment requirements with Ken, contact him at 304-634-6883 or keno@rampump.com.
Reliability and Repair Center Opens in Cincinnati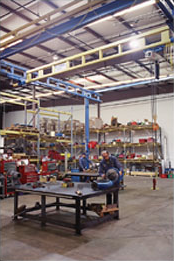 To meet its customers' needs for high-quality after-the-sale service and support, fluid handling products distributor, RA Mueller opened a fully equipped reliability and repair center in Cincinnati.
"Our reliability and repair center is devoted to troubleshooting customers' processing challenges and getting them into operation again as soon as possible," remarked Jim Hook, Vice President of Marketing and Sales, RA Mueller. "The center is staffed by factory-trained technicians with the expertise to provide qualified preventative maintenance service along with manufacturer-certified rebuild, refurbishment and repair."
Additionally, a variety of high-tech services are also offered including laser-assisted pump shaft alignment, computer-controlled impeller balancing and metering pump calibration.
RA Mueller Boasts the Largest Number of Degreed Engineers on Staff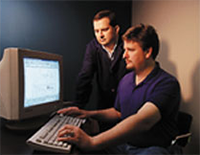 RA Mueller is the largest fluid handling products distributor in the Ohio Valley region due in part to its large staff of highly skilled and experienced engineers. Degreed in various fields of study including mechanical, electrical and chemical engineering, these qualified professionals fulfill roles within the Company as systems designers, sales engineers and applications support personnel. "We are dedicated to seeking out, hiring and retaining the most highly qualified, motivated individuals skilled in specific areas of expertise to ensure our customers' unique needs are met," explained Jim Hook, Vice President of Marketing and Sales, RA Mueller.
RA Mueller engineers employ their knowledge and experience to conduct complete analyses of customers' fluid processing systems in order to develop a solution that optimizes system performance, cuts operational costs and increases efficiencies.